Review of moat measurement
Published :

12/21/2021 1:09:00 PM .Dec.21

Authors :

Mahdieh PIRI

Last update :
From Troubleshooting to Emerging Formats
Oracle Moat offers measurement and marketing analytics products designed to help advertisers, publishers and platforms measure media performance across the breadth of their digital and TV advertising campaigns.
Oracle Moat deliver solutions that are critical to measuring add effectiveness verification and attention reach and frequency as well as real time lift measurement. Throughout this learning path you will learn all about the digital industry and how third-party measurement came to be along with the oracle products build to exceed client demands.
From Moat analytics to promote reach to Moat outcomes. You will learn how we are driving the industry forward with products designed to uncover insights and provide transparency on who, what, when and where your clients are reaching their customers. You will hear from industry experts on brand safety, learning how to create and active custom brand safety strategies along with how to implement blocking tags, which will offer your clients a second layer of protection.
Not only will you experience a hands on demonstration teaching you everything you need to know and more from campaign set up to exporting data in the UI, but you will also learn how to extract meaning full insights, which you can use to optimize campaign results. Our integration team will help you with frequently asked questions and troubleshooting tips along with sharing some technical insights on topics including SDK, VAST and CTV. We hope you are as excited as we are to teach you all things Oracle Moat and we look forward to seeing your accreditation badge posted to your favorite professional networking site.
How to troubleshoot meeting campaigns or placement from our more analytics reports?
More specifically how to identify a missing campaign or placement and how to remedy this type of issue at the end of this article? You will have a good understanding of the relationship between tagging process and the measured data in your mode analytics dashboard. But before diving into the Moat analytics dashboard, let's take a step back and remember the two main types of activation possible for Moat measurement. For your open web activity Moat analytics measurement is enable with a specific tag.
For instance a JavaScript tag for your display placement. A vast for 0.1 or VPay tag for your video inventory and a special set of one by one pixels for your connected TV campaigns. On the other hand for world garden inventories such as Facebook, YouTube, etc. Moat has direct integrations, which do not require additional tags to be applied. Here you will need to either enable Moat by the platform setting or back on taxing your dedicated support team as previously mentions in this course. It's important to note what type of activity you troubleshooting as the steps, you'll take depend on that information.
Now let's dive in: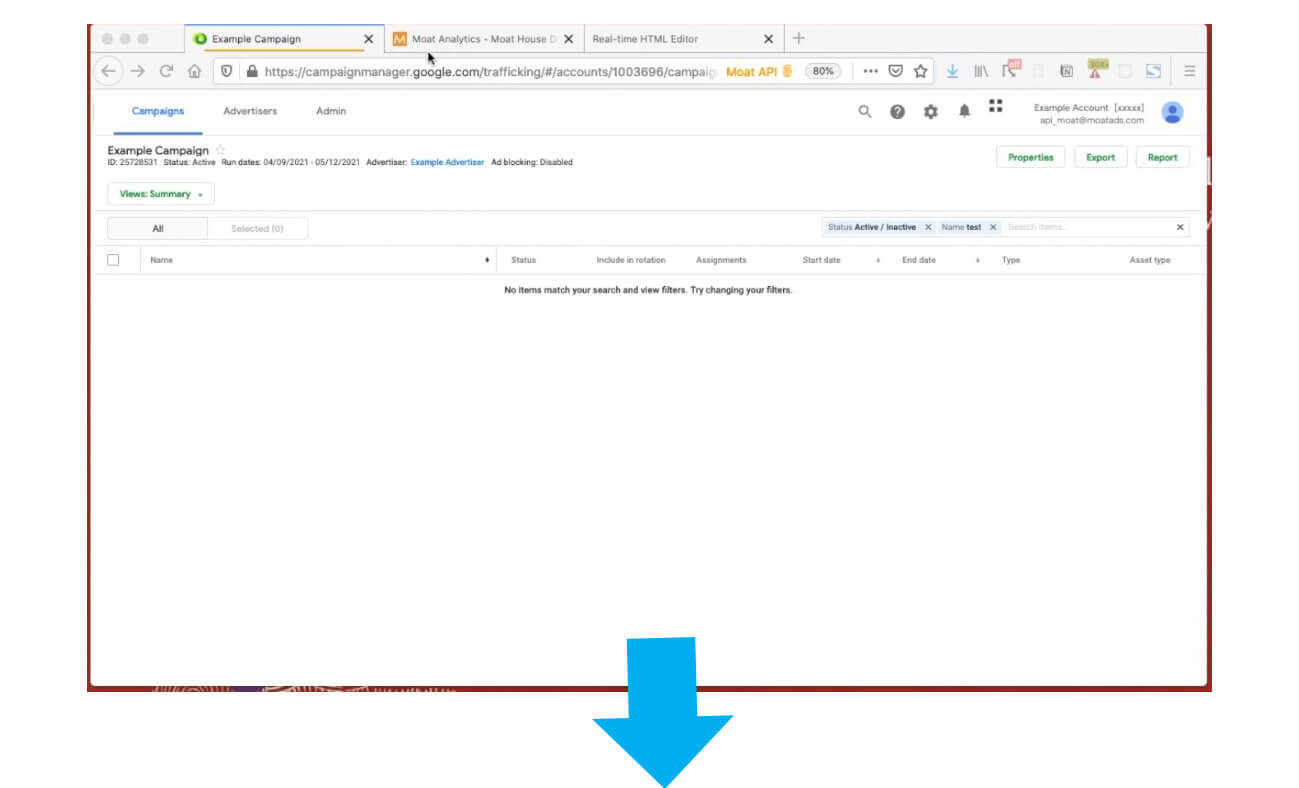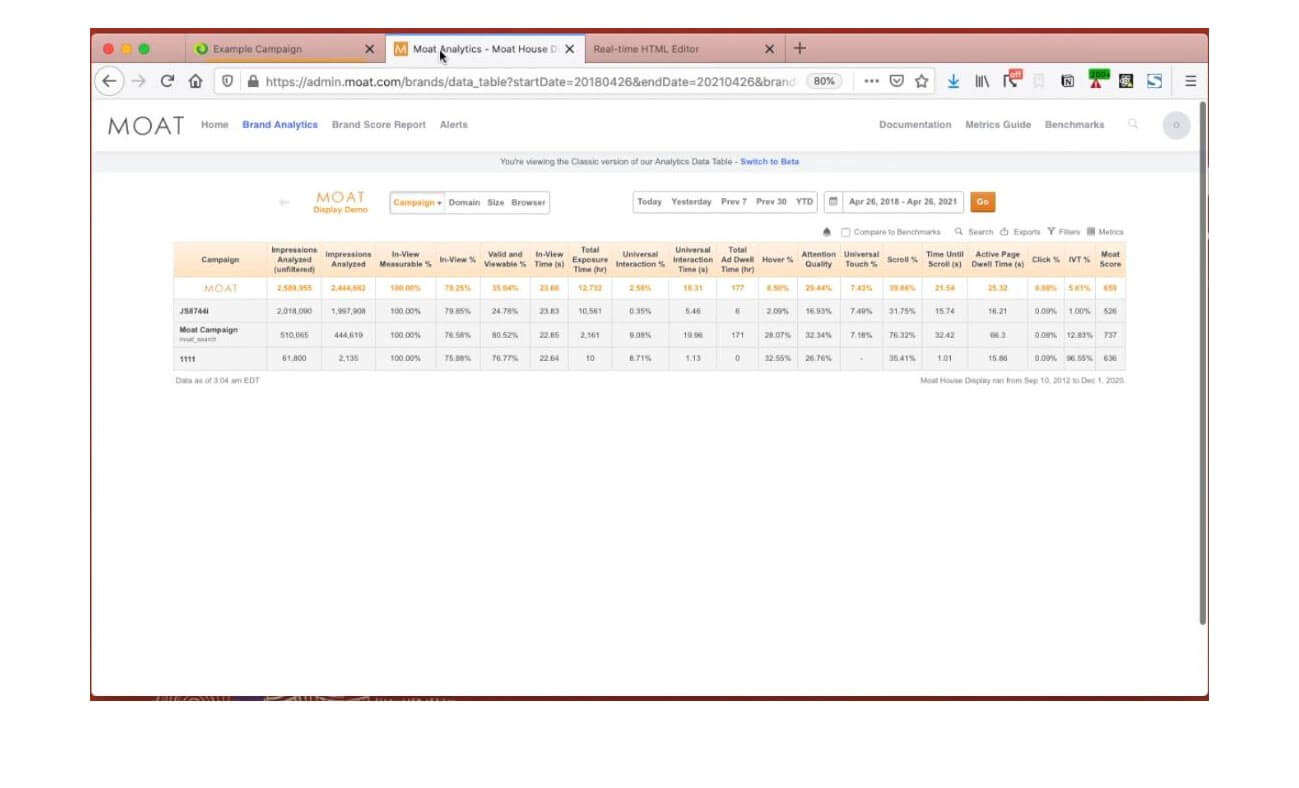 Here an example add server loaded and you can see campaign which expect to be measuring with Moat, but if we jump in to the Moat dashboard, you will notice that we cannot see this example campaign listed here.
As it's an open web campaign which is being trafficked on a DSP, I need to be insure that more tag is implemented. you can easily test this by running one of your placement tags into an HTML validator and look for a call to the Moat servers. Let's do this now: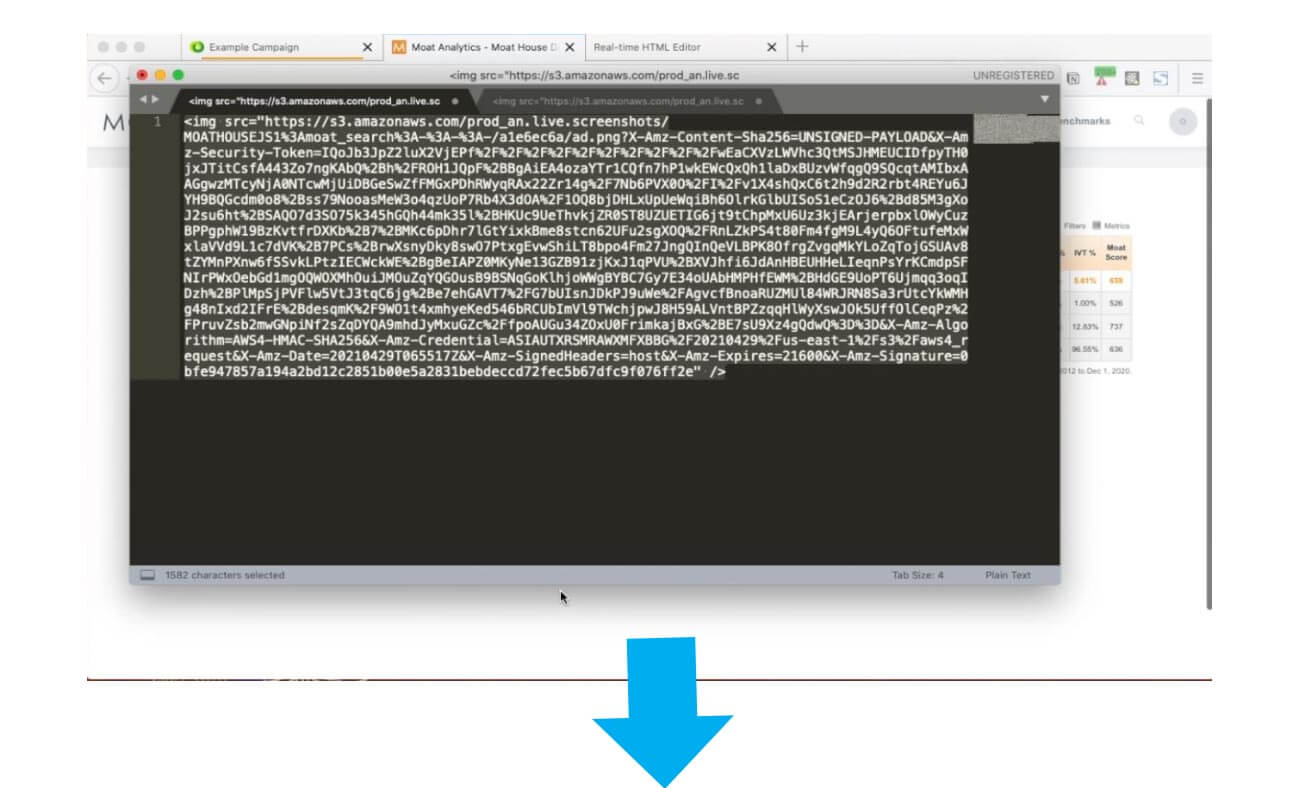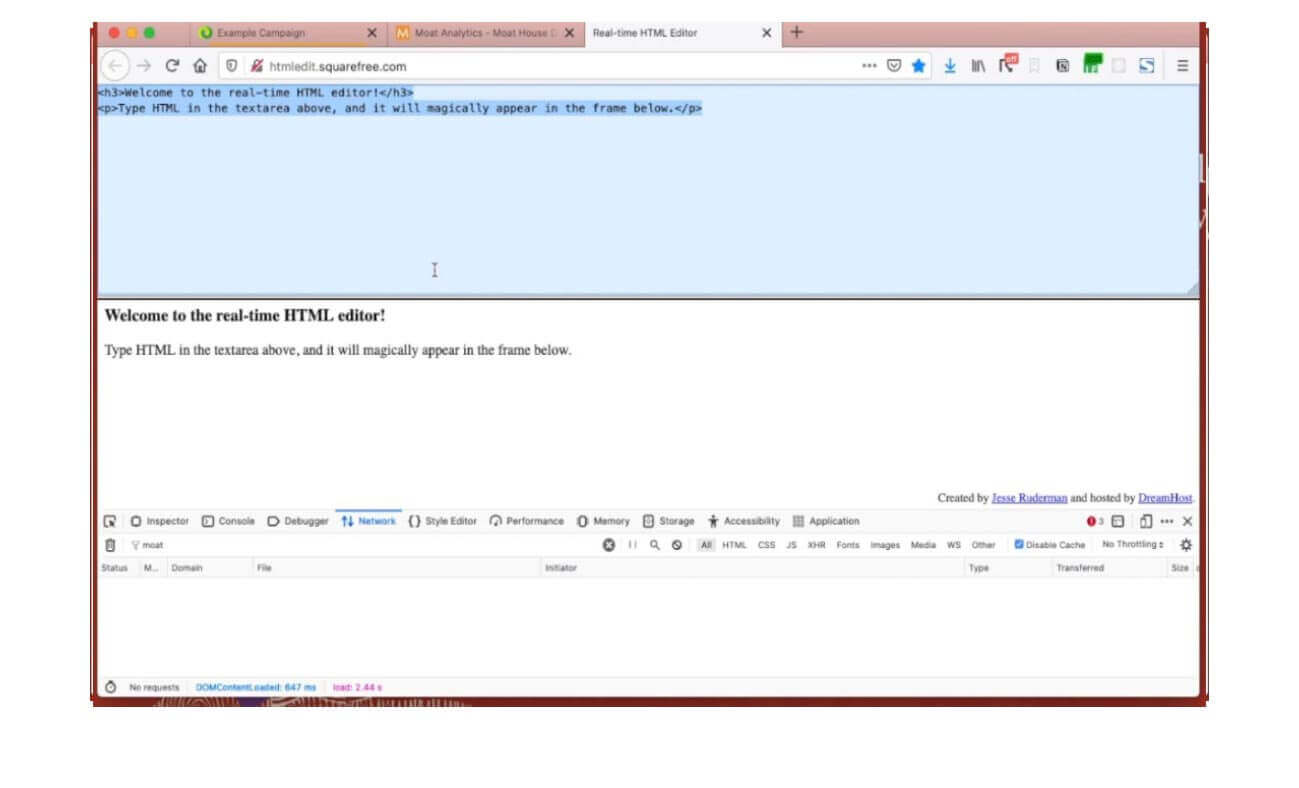 We have an example tag here, so simply copy it into an HTML validator. As you can see there is no calls to the Moat servers. This indicates that the Moat tag is not implemented.
Now let's take a look at the placement where the Moat analytics tag has been correctly implemented. We have another example right here. As you can see ones the issue is remedied, we can run the tag in the validator again and we can see calls being made to the Moat services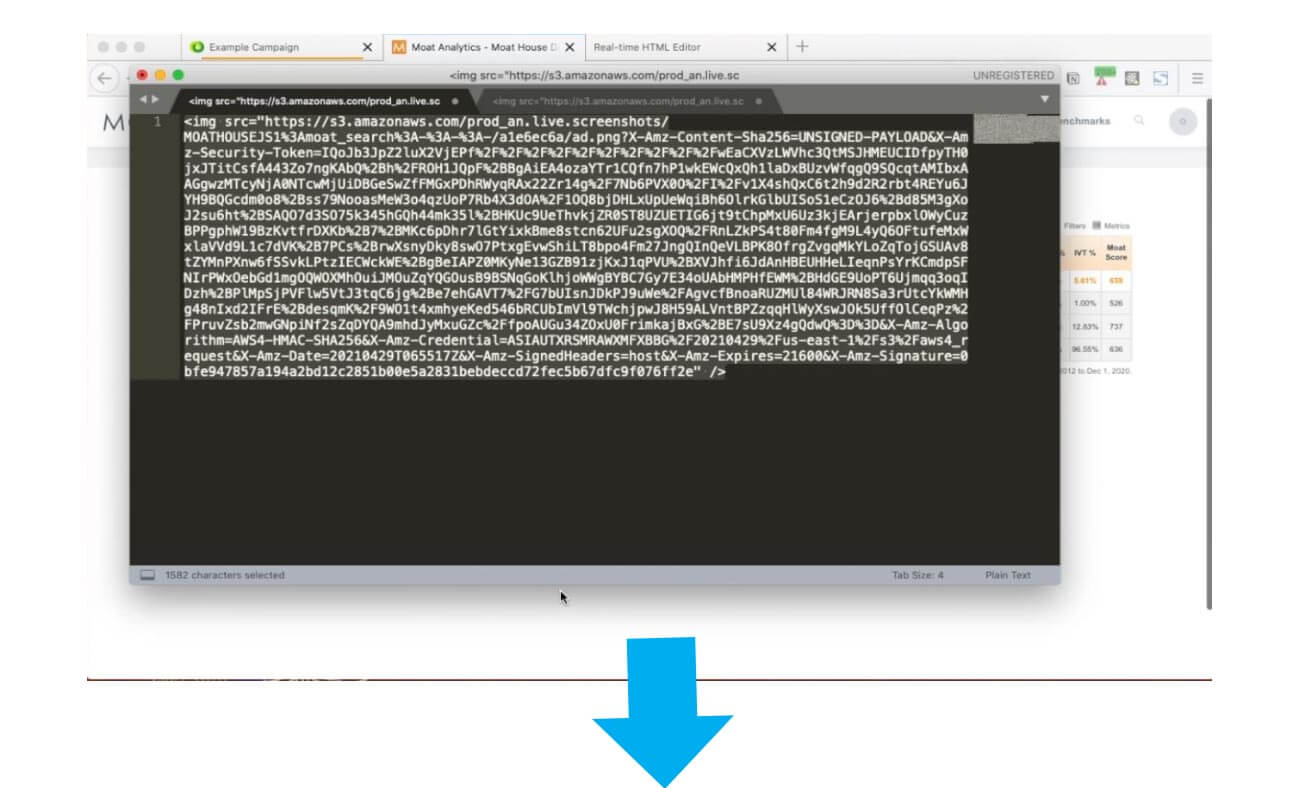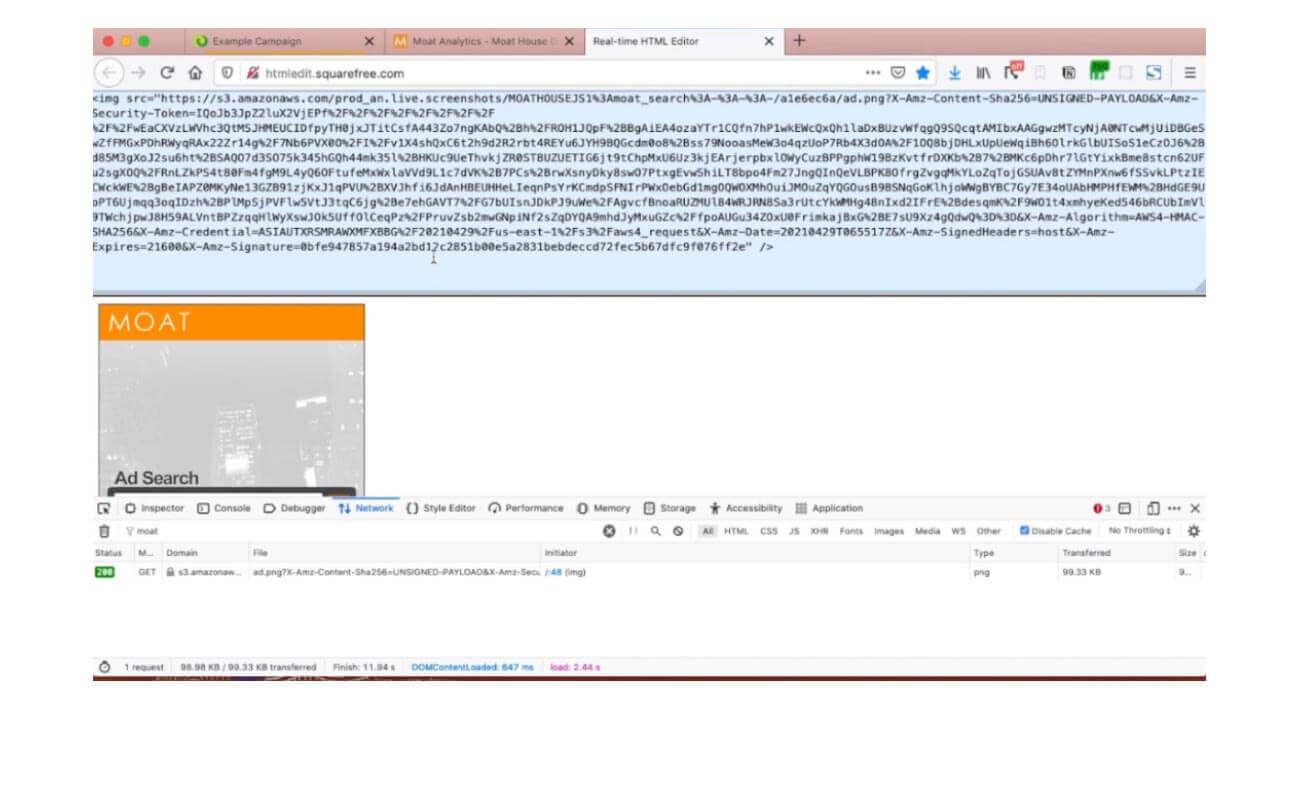 Note that it can take a few hours for those changes to be reflected in the platform, but you should now be able to see your campaign and placement appearing as expected.
To recap it's important that you check your correct tags have been implemented on your open web activity. In order to receive Moat measurement data. For old gardens and other direct integration, you may need to reach out to your platform support team so that it can activate Moat on their end.
But if you still running into issues and not getting measurement, please reach out to your dedicate Moat integration engineer with a test page so that we can troubleshoot the issue further
Missing assets and how to resolve this type of issues
What missing assets are and how to resolve this type of issues? A picture worth a thousand words, so let's take a look: mode can generate a screenshot of your creative as well as a helpful heat map.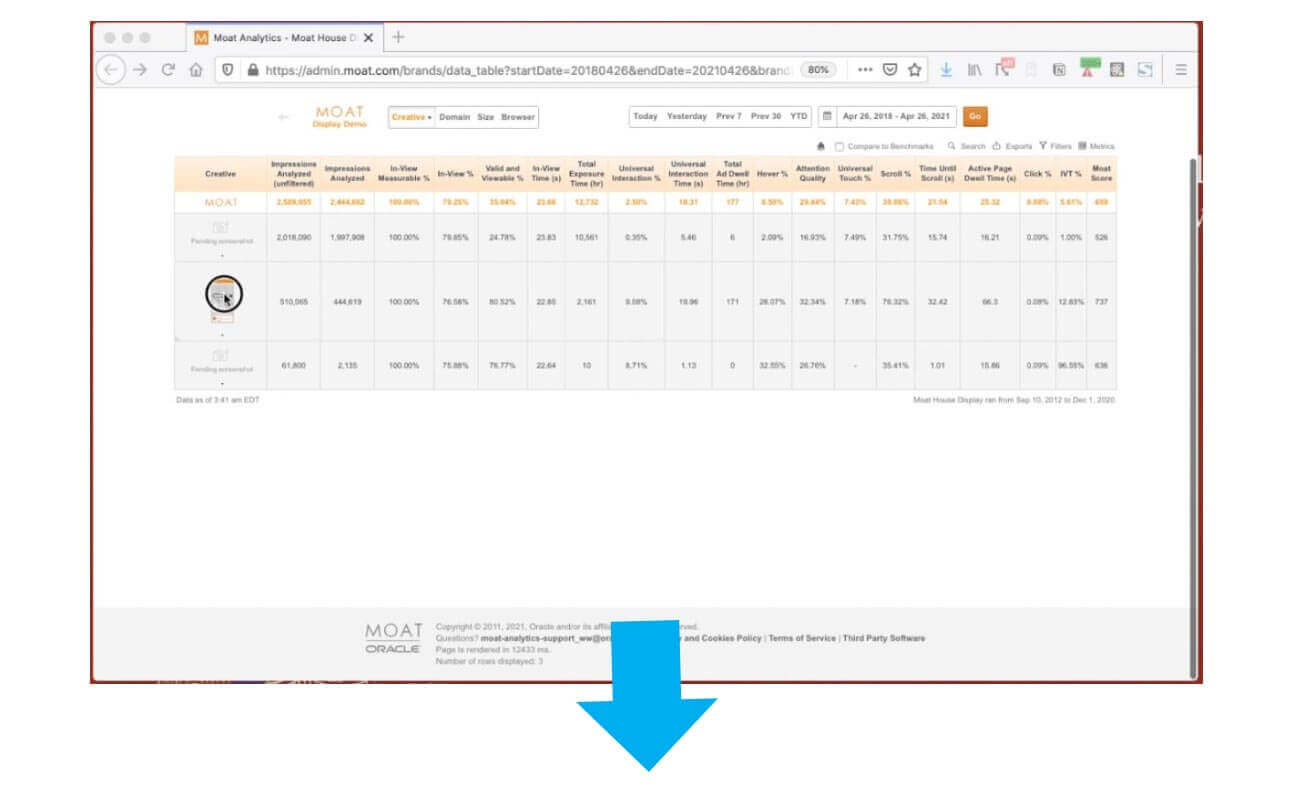 This will help you understand where interactions have happen: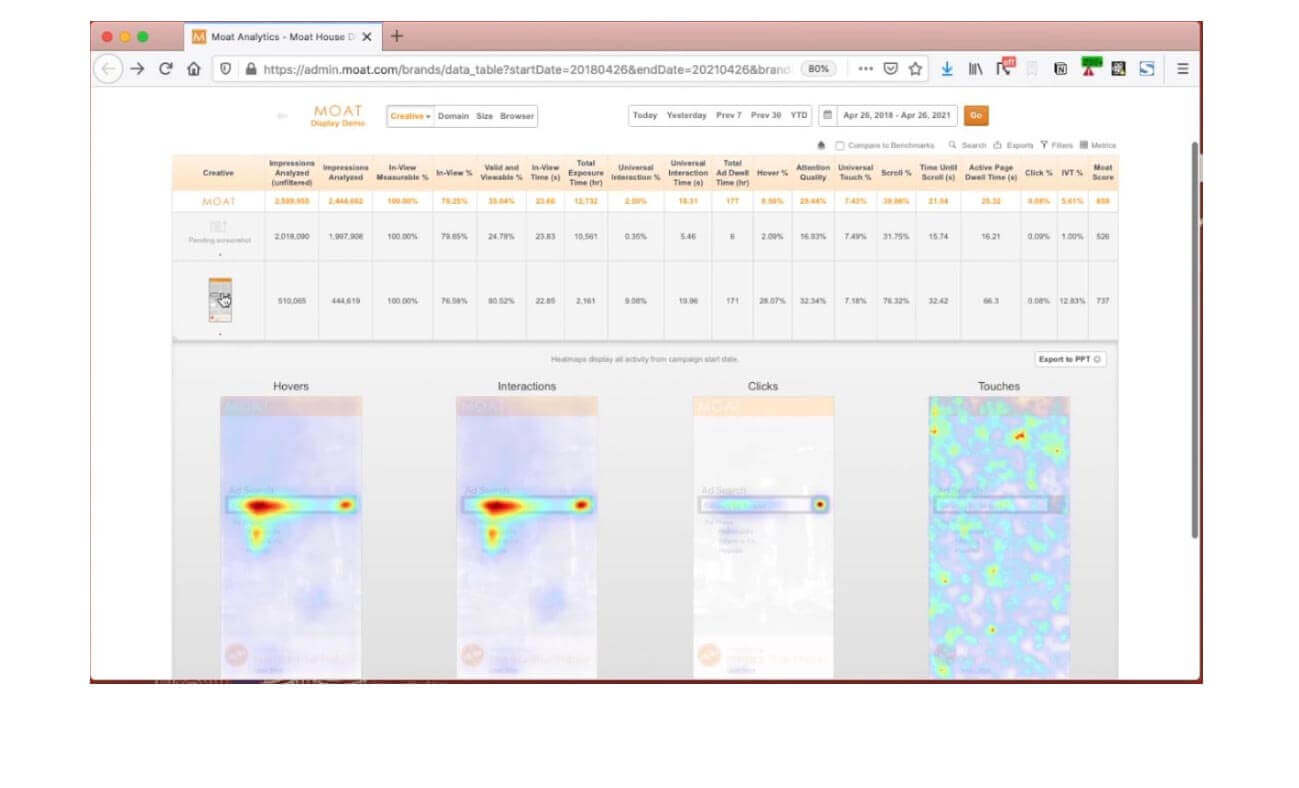 But as you can see here, the creative mean not be captured correctly or its implementation may not allow for attack to screenshot it automatically. In this case, we are talking about missing assets but you can simply click depending screenshot icon and upload you're your own creative.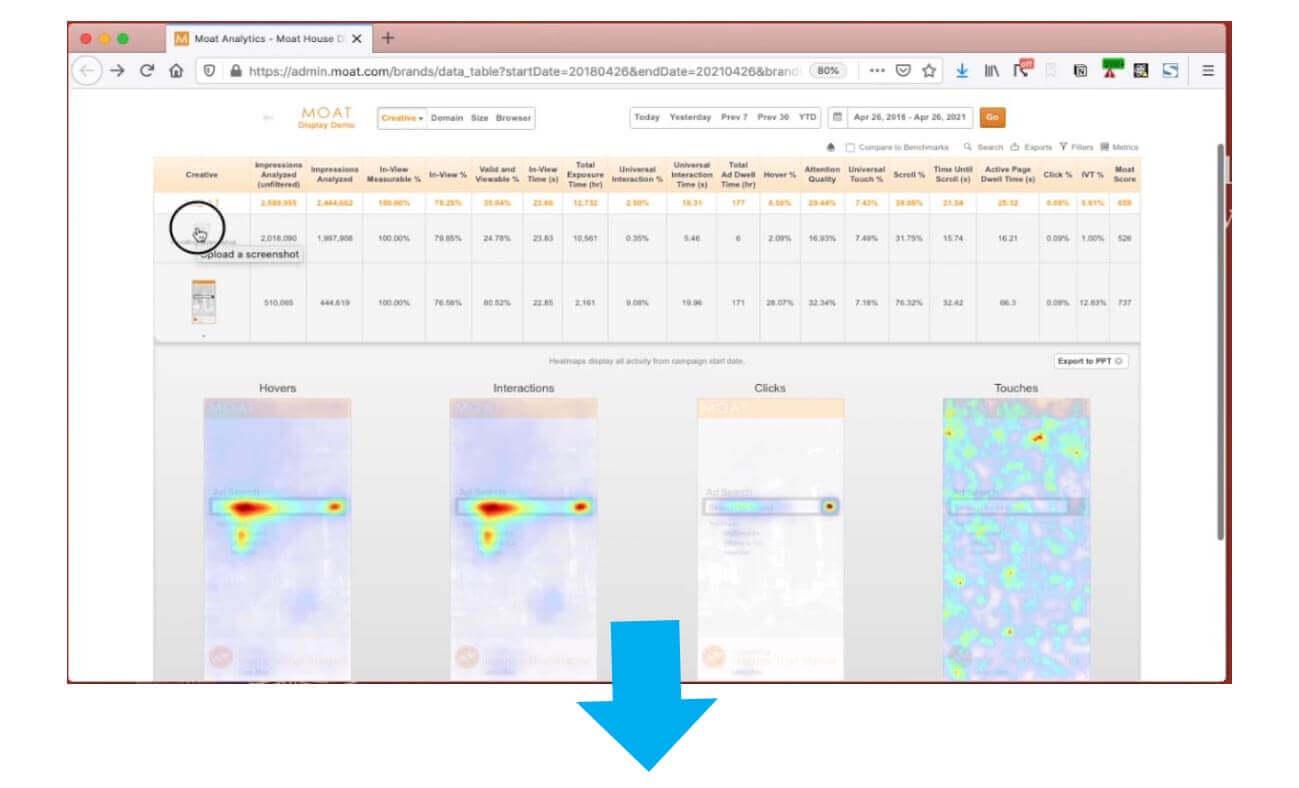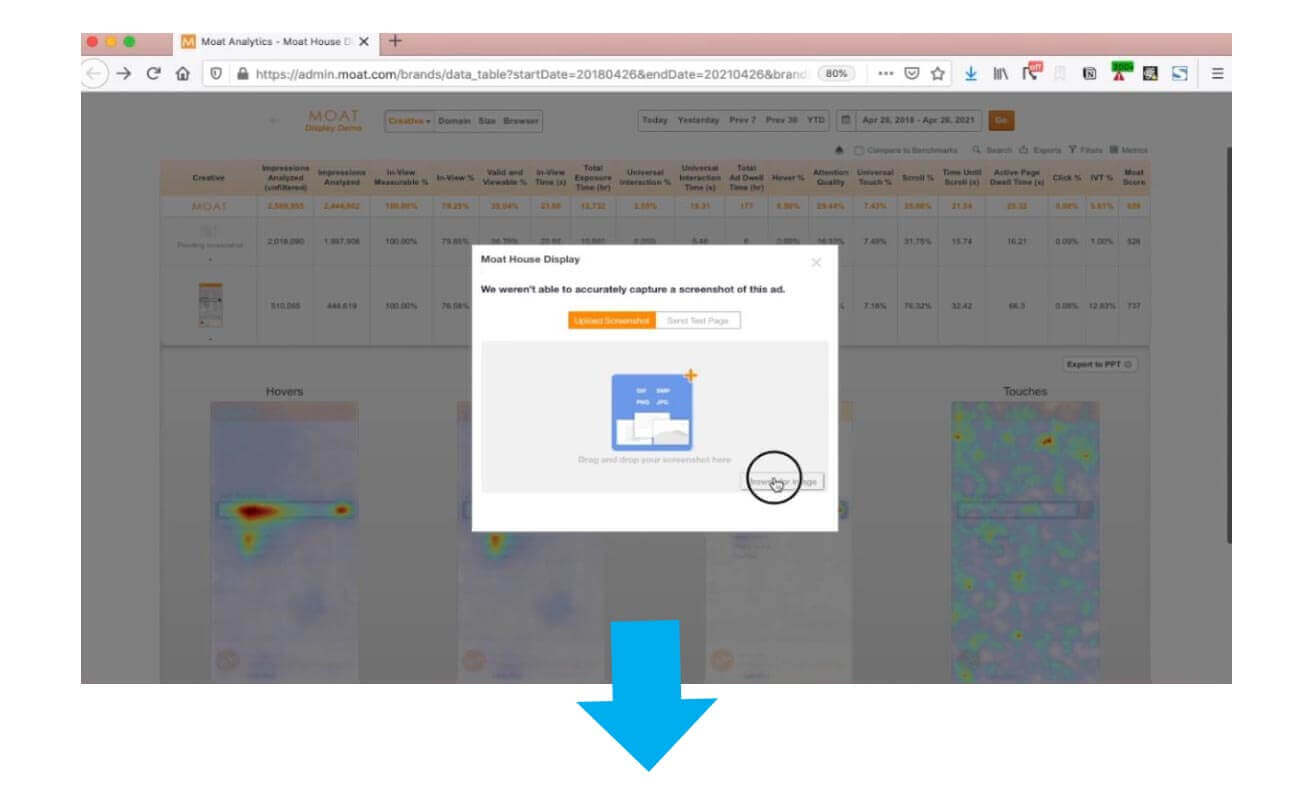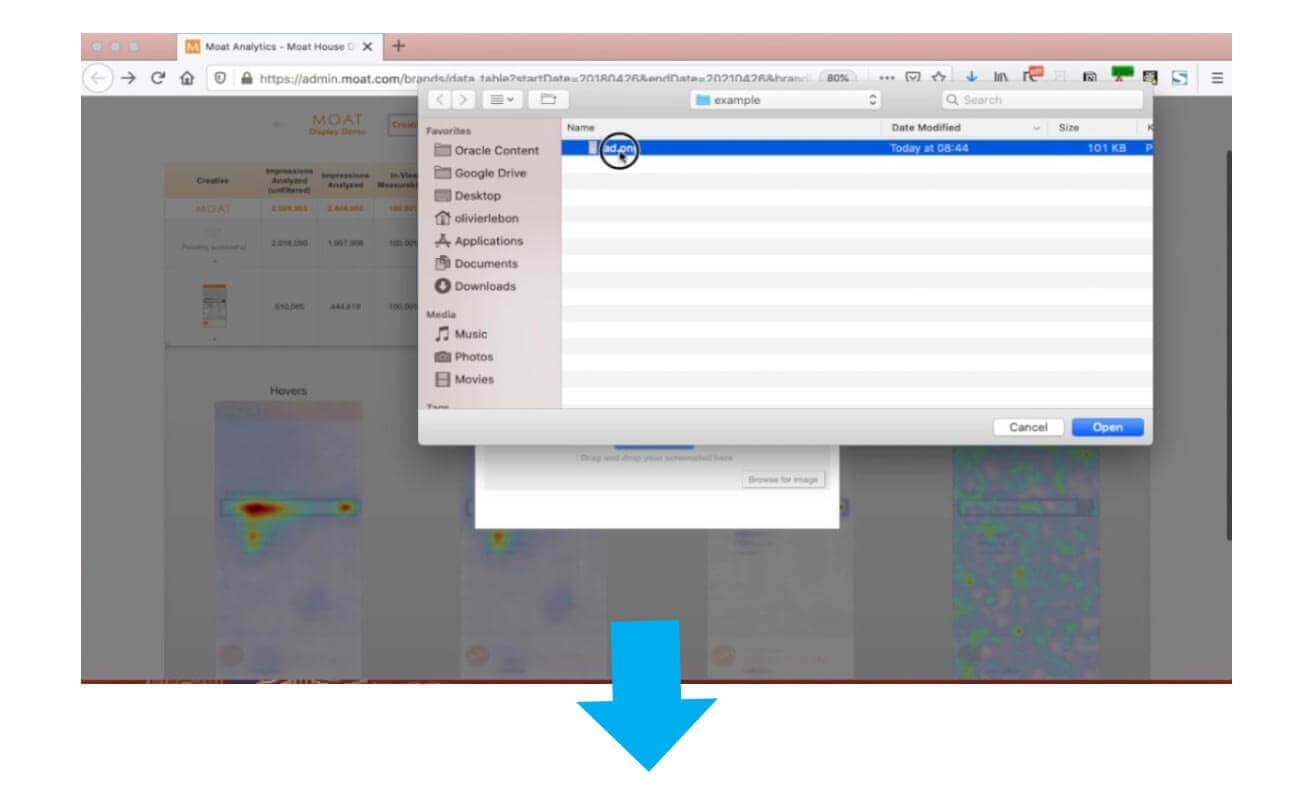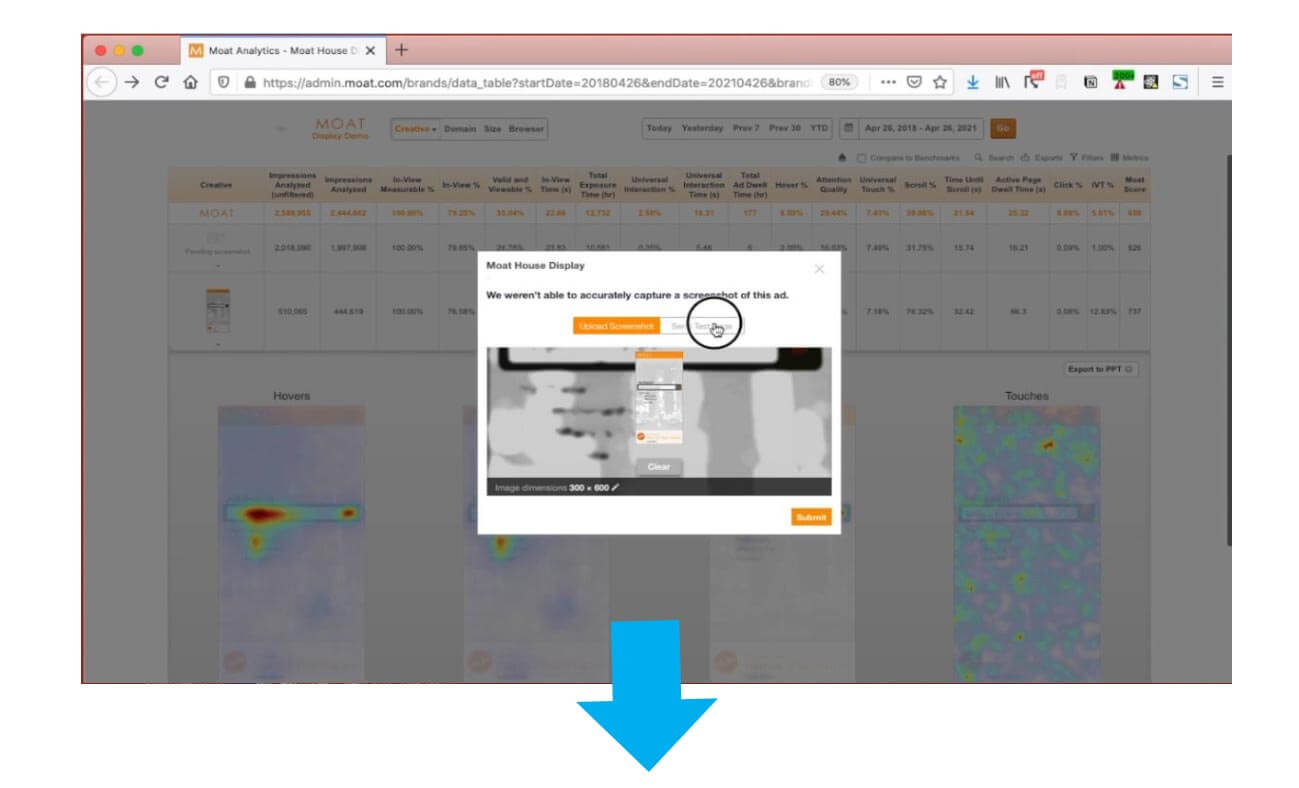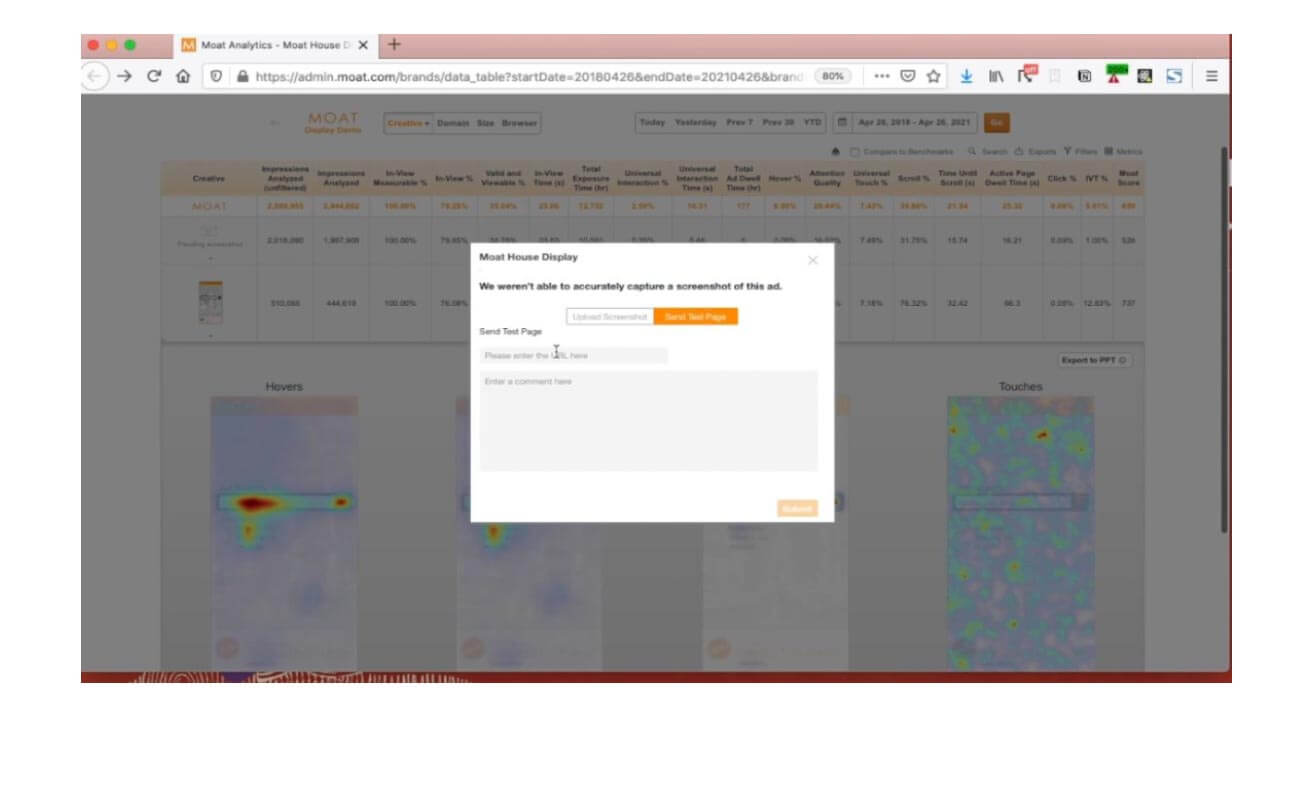 You can also submit a test page for us to recall it automatically and attempt to take another screenshot. An additional bonus here is that we will automatically generate the corresponding predictive heat map for this creator so you can still understand what interaction may have been for this particular creative.
So to recap creative and heat maps may be missing depending on the number of factors such as implementation of the tag. In this case, you can use the platform to refresh the creative screenshot and generate the predictive heat map. You may also reach out to your account manager for further support.
In this course, we will learn about SDKs and how they are relevant to you when measuring your campaign for view ability.
The concept of SDKs
The acronym SDK stand for software development kit. In a nutshell we can think of it as a toolbox available to application developers. It sits between the app code and the environment running it such as Android or iOS. They are countless as decays available, each addressing specific sets of problems. So may help build the interface of the app whilst other methylated action or process.
In our case we need an SDK to expose search and signals so that it can be used to calculate and measure view ability accurately as define by search bodies as the IAB or the MRC. This is because unlike open web activity measured on desktop or mobile in-app, inventory does not allow for JavaScript or VPay to be run in the same way. So we need as SDK to act as the middleman to inform our mode tag when a specific placement has become in view or whenever other attention signals are fired.
Mode has participated in the IABs open measurement SDK initiative which provides exactly this type of functionality. So in order to ensure that your target in-app inventory is compatible with third-party verification such as mode analytics, you will need to check that the applications publisher has induced implemented the UM SDK.
The IB maintains a list of accredited vendors on their website, which can be a great resource to get started. Overall this is a great way to provide accurate measurement in emerging inventories such as in-app but the industry is also looking ahead to other platforms such as connected TVs which are expected to follow a similar process to enable measurement at scale.
We have seen how software development kits also known as SDKs provide a communication channel for signals to be collected on special inventory such as in-app these can be used to measure MRC accredited view ability rate as well as other potential metrics. The most popular SDK useful view ability is the IBs open measurement SDK. Alongside in-app inventory, the industry is working towards making the SDK available to emerging platforms such as connected TVs.
Existence in mobile inventories
There are two main types of inventories when dealing with mobile devices web and in-app. The first type mobile web presents the same attribute as an average desktop web inventory. It uses the same technologies such as JavaScript or V Pay and is also accessed via browser.
Now that's maybe the devices web browser, but it can also be an on-boarded browser within an app sometimes referred to as web view. The other type of mobile inventory is in-app inventory. This one is built using different technologies which are platform-dependent it's also accessed directly by an application rather than the browser.
. In order to measure this type of inventory we require an SDK such as the IAB's open measurement SDK. The main limitation around mobile in-app inventory for view ability is that the IAB's open measurement SDK needs to be implemented in order for mode analytics to collect the required signals, but as long as the SDK is present on an accredited inventory, this limitation can be overcome. There's another area to be mindful of when dealing with in-app inventory and this one is contextual intelligence and brand safety. Mote analytics can measure contextual contexts of a web page by using a grape-shot crawler, which extracts the meaning and builds categorization segments but in app the column may not be able to access the content which means that these capabilities may not be available.
But it's worth nothing that they are number of initiatives that can help alleviate these problems. To recap the two types of mobile environments web and an app to measure view ability in-app, we need IB's open measurement SDK to be implemented. And finally, contextual and brand safety capabilities may be further impacted on in-app inventory. So do check the implementation…